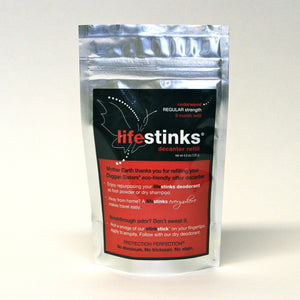 free shipping on all orders
Product Description
4.5oz deodorant

Country of origin: Usa

Please read all label information on delivery

Is it time to refill your eco-friendly sifter container? Make sure you have your original Duggan Sisters lifestinks decanter; it is 100% stainless steel with an ultra-fine mesh for smooth application. It is guaranteed to provide you with quality results by protecting your botanical-rich deodorant from light, cross-contamination and aluminum-laced containers.ALLr This Cedarwood Regular Strength Refill Bag contains a 9-month supply of lifestinks. Yep, thats right, $2 per month for the worlds smartest and most effective deodorant. Be good to Mother Earth and your budget.rr Aluminum-free. Triclosan-free. Fragrance-free. Talc-free. Stain-free.