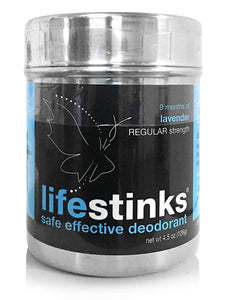 free shipping on all orders
Product Description
lifestinks is an effective, innovative and safe deodorant. Make the change today to life stinks. Once you do, you will never want to go back to your old deodorant. An increasing number of studies have shown that anti-perspirants containing aluminum are linked to cancer and other diseases. lifestinks offers a revolutionary delivery system: simply shake out a small amount onto the palm of your hand and pat onto the underarm. If you need extra protection, dab a small amount of the stinkstick on your finger and apply to your underarm before applying the powder. You will perspire lightly and odor will be neutralized naturally.

lifestinks is also an wonderful antifungal foot powder, not to mention a great solution for protecting your clothing investment no more white stains or body odor that doesnt wash out. Youll find that the more you use lifestinks, the less youll need. Handmade by Chicago women committed to health and wellness. Finally, a deodorant that you and your family can feel good about!

Benefits of lifestinks:

Contains three simple ingredients: aluminum free sodium bicarbonate (natures oldest drying agent), tea tree oil and lavender or cedarwood oil
Refillable eco-friendly stainless steel sifter dispenser
Sanitary by design so the whole family can share
Can be sprinkled in shoes as a great anti-fungal foot powder
Highest quality Australian botanical oil infusions
Absolutely non-staining. Rinses completely from clothing
100% effective deodorant without any toxins
Provides gentle dryness while allowing healthy perspiration
Talc free - Goes on dry to keep you dry
Fragrance free with a choice of botanical infusions
Available in both extra mild (lavender) and extra strong (cedarwood)
Refill is very cost-effective one refill bag lasts for an entire .