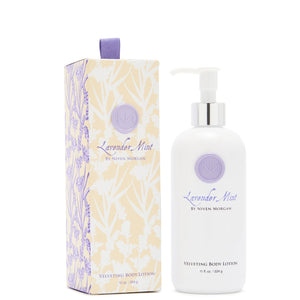 Niven Morgan Lavender Mint Velveting Body Lotion 12 oz.
Regular price $32.00 Sale
free shipping on all orders
Product Description
Pure luxury! This body lotion is a velvety blend of organically grown aloe vera, moisturizing shea butter, extracts of cucumber and nutrient-rich algae. Supplemented with essential vitamins of Vitamins A, C, E and Panthenol (Pro-Vitamin B5), Niven Morgan body lotion helps soothe and soften dull, dry skin while revitalizing and nourishing your skin.